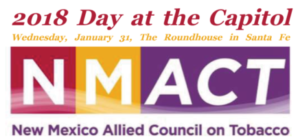 Join the New Mexico Allied Council on Tobacco (NM ACT) for our 2018 Day at the Capitol. We are advocating for maintaining New Mexico's tobacco control programs funding and an increased tobacco tax.
We will begin the day at The Roundhouse for our press conference highlighting the imporatance of prevention and cessation programs in New Mexico.  Following the press conference, we will move to an area venue for Advocacy Training, and then back to The Roundhouse for legislative visits.
For more information, please contact Suzanne Lawson at suzanne@chronicdiseasenm.org.
*****
Information on overnight accommodations will be available soon.